Berlin, June 2014: traffics CEO Salim Sahi and Federal Chancellor Angela Merkel in conversation about innovative holiday booking systems of the future.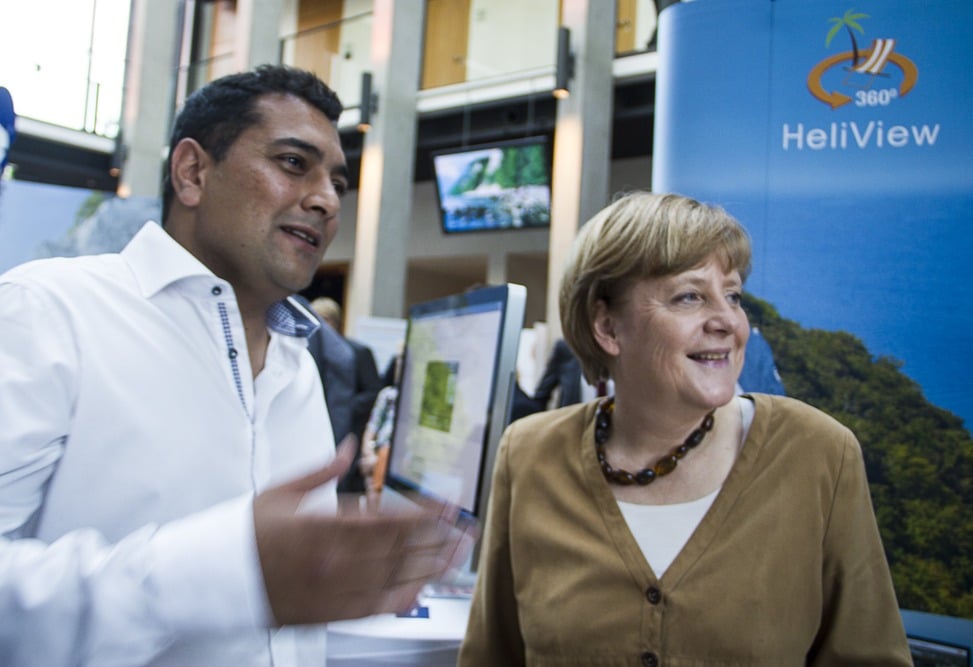 Experience HeliView holiday destinations from a helicopter and then book; an innovation that also delighted the Federal Chancellor at the summer party of the State Federal Government of Mecklenburg-West Pomerania in Berlin. Salim Sahi, CEO of travel tech company traffics, presented the Baltic Sea island of Rugen as the first German destination in the HeliView portfolio to the Federal Chancellor.
The Federal Chancellor showed that she was impressed by the authentic films and the opportunity to book a holiday in the scope of an interactive virtual helicopter flight, says the traffics CEO. Merkel praised the innovative idea during the conversation and encouraged Sahi to implement the planned expansion of HeliView. The Federal Chancellor was particularly impressed by the interactive method when looking for a holiday and that the HeliView platform is used directly in the advisory process; both at the point of sales in travel agencies and also on travel portals.
HeliView – direct presence of destinations at the point of sales
The interactive sightseeing flights are integrated directly into the booking systems and Internet Booking Engines. Therefore the desired holiday destinations can be virtually experienced before booking at the travel agents or travel portal and make booking easier.
HeliView also shows sights
In addition, each sight and hotel can be specifically selected in an interactive 360 degree sightseeing flight.
To date, over 9,000 kilometres of coastlines, beaches, sights and destinations as well as approximately 13,000 hotels have been released, to be looked at with a bird's eye view and booked directly online.